1991

Started operating a tingkat delivery service in a 600sq ft rented kitchen with 3 vehicles and 10 employees.
1992-93

Set up first commercial kitchen in Siglap.
Established second kitchen in Hougang to serve customers in the northern part of Singapore.
1995

Set up a third kitchen of 3600sq ft in Aljunied with 80 employees
1997

Company name was changed to Select Catering Services Pte Ltd

2000
Relocated to 50,000sq ft kitchen at Senoko Crescent
Established Stamford Catering Services as a Halal – certified caterer
Commenced Institutional Catering business
Received the 'Singapore SME 500 2000/2001 Company' recognition
2004
Listed on the SGX-SESDAQ as Select Catering Services Limited
Successfully tendered for the development and management of Singapore Expo F&B hub
Started Lerk Thai concept
2005
Started working with Changi Airport Group with the first staff cafeteria contract within Singapore Changi Airport
2006

Awarded WDA ''Approved Training Organisation'' status to train WSQ programmes
2007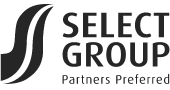 Rebranded Select Catering Services Limited to Select Group Limited
2008

Acquired Peach Garden Holdings
2009

Started first Universal Dining concept at Singapore Expo

2010
Secured franchise rights for Texas Chicken in Singapore
Started Hong Kong Sheng Kee Dessert concept
Awarded WSQ Training Excellence (F&B) by WDA and received this award in 2010, 2012, 2014 and 2015
Catered for the inaugural Youth Olympic Games
2011
Established Stylze Catering, a premier catering arm
2012
Opened SuperTree Dining @ Gardens by the Bay
Started Lou Yau concept
Opened Hill Street Coffee Shop concept
Rebranded Select Institutional Catering to Pro*3 Institutional Catering
2013
Started Pho Street concept
Opened Griddy concept
2014-2015
Received the inaugural Singapore Productivity Award by Singapore Business Federation.
Started our first overseas outlet with Hong Kong Sheng Kee Dessert concept in Kuala Lumpur, Malaysia
Opened second and third thematic food courts names Chinatown Food Street and Singapore Food Street.
Opened the latest thematic food court named Straits Food Village.
Collaborated with JTC Corporation to open the first Third Place dining concept.

2016
Straits Food Village was awarded the prestigious Airport Food Court of the Year at FAB Awards 2016. The first airport food court in Asia to win this award
Straits Food Village also received a high commendation for the Food & Beverage-Related Innovation Award at the Airport Food & Beverage (FAB) Conference & Awards 2016
Opened Pho Street concept in Kuala Lumpur, Malaysia
Started Hong Kong Sheng Kee Noodle House concept
Started Hong Kong Sheng Kee Pau concept
Relocated to our present Select Group Building conceptualised by renowned architect Tan Kay Ngee and famed Taiwanese artist Hsu Yunghsu
2017
Launch of new business concept Taste Asia ready to eat meal
Awarded 5 awards at The Marketing Events Awards 2017
Conferred the prestigious Singapore Quality Award 2017
Entered a new market, Indonesia in October 2017
Opened International Food Hall in Terminal 4
2018
Entered a new market, Vietnam in March 2018